Your Bellingham Real Estate Specialist
If you're interested in buying or selling a home in Bellingham, Crystal O'Neill can help. Learn about services for buyers and sellers of properties in Bellingham.
On the shores of Bellingham Bay with Mount Baker as its backdrop, Bellingham is the last major city before the Washington coastline meets the Canadian border. The City of Bellingham, which serves as the county seat of Whatcom County, is at the center of a uniquely picturesque area offering a rich variety of recreational, cultural, educational and economic activities.
Location
Bellingham, Washington is about 90 miles north of Seattle, 21 miles south of the Canadian border and about 52 miles south of Vancouver, B.C. The City encompasses about 28 square miles, with north Puget Sound and the San Juan Islands to the west and snow-capped Mount Baker and the North Cascade Mountains to the east.
Community
Bellingham residents are passionate about community life. Strategic investments in parks, trails and preserved open spaces offer recreation and respite, and help the community grow gracefully as the population increases. Numerous public/private partnerships support the burgeoning arts and cultural district downtown and elsewhere. Bellingham's active waterfront hosts a range of marine activities, with significant change on the horizon, as area community leaders and residents consider options for development.
Neighborhoods
Bellingham has 23 distinctly recognized neighborhoods, where homes for sale include everything from regal Victorians, waterfront bungalows and country farmhouses to downtown condominiums and new developments. Bellingham's active leaders work together to shape the future of their area and the City as a whole. The City's rich heritage and recent population growth are reflected in its diverse neighborhoods and housing styles.
Education
Bellingham is home to Western Washington University, the state's third largest university. WWU has an enrollment of over 12,000 students and is Whatcom County's largest employer. The campus is located on the southwest side of Sehome Hill close to Bellingham Bay and downtown.
WWU's campus features a large outdoor sculpture exhibit that is open to the community. In addition, many community members enjoy watching WWU's athletics, Summer Stock performances, and the world-class artists who come to Bellingham for the WWU Performing Arts Center Series.
History
Prior to white settlement, the Lummi, Nooksack and other Coast Salish tribes thrived on the natural resources of what would eventually become Bellingham. English Captain George Vancouver first explored the area in 1792 and named Bellingham Bay for Sir William Bellingham, Vancouver's British Navy provisioner. Small communities came and went on the shores of Bellingham Bay through boom and bust cycles during the 1800s. The City of Bellingham incorporated in 1904 after the populations of four adjacent bayside towns voted to consolidate. Bellingham's historic character is remarkably well-preserved, with a large number of historic buildings downtown, in Fairhaven's Historic District, and in adjacent neighborhoods.
Attractions
Bellingham features a family friendly downtown area filled with many retail shops, art galleries, restaurants and several museums. The city's downtown area is supported by the Downtown Renaissance Network.
The Whatcom Museum of History and Art is located downtown in the original city hall building built in 1892. This historic landmark is one of four buildings that make up the museum including an award-winning children's museum.
The Mount Baker Theater is a historic theater that has been recently renovated and hosts many world-class performances throughout the year. In addition to the Mt. Baker Theater, Bellingham has a couple smaller theaters that feature locally produced plays and improv performances.
Downtown Bellingham features several annual events during the year.
The Procession of the Species and Ski to Sea parades take place in May.
The Allied Arts' Chalk Art Festival and the Bellingham Festival of Music take place in August.
The NW Projections Film Festival and the Allied Arts' Holiday Festival of the Arts take place in November with the Arts Festival continuing through December.
During the summer months, downtown Bellingham is host to several Gallery Walks, the popular Saturday Farmer's Market and Downtown Sounds Summer Alley Concerts.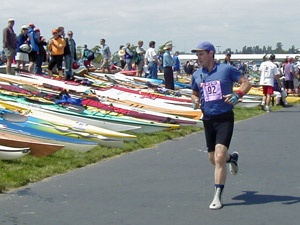 Bellingham's annual week-long community celebration, the Ski to Sea Festival, takes place during the the month of May. The Ski to Sea Festival features many community events including a junior Ski to Sea race, two parades, art and car shows, and a carnival. The celebration ends with the annual 85-mile long Ski to Sea race that takes place on Memorial Day Weekend. This seven-leg relay race starts at the top of Mt. Baker and finishes at Marine Park in Bellingham Bay.
Parks
Lake Padden Park
(4882 Samish Way) This popular park located on the south end of Bellingham is the city's largest park. It includes the lake, the surrounding wooded hillside and an 18-hole public golf course. Many events and activities take place in this park throughout the year including fun runs and triathlons, cross country races, the Jr. Ski to Sea Race and the New Year's Day Padden Polar Dip. The 2.6 mile trail that circles the lake is great for runners and walkers. The steeper trails on the back hillside are popular with hikers and mountain bikers. The park has designated equestrian trails and off-leash dog trails as well. Lake Padden is one of Whatcom County's hatchery stocked lakes and many people come to fish here from the end of April to October.
Bloedel Donovan Park
(2214 Electric Ave.) This park on the north end of Lake Whatcom has a public boat launch and is the primary public access point to the lake. In the summer, Bloedel Donovan is filled with families who come to swim, play and picnic. The park has a playground, sand volleyball, a swimming area with a sandy beach, basketball and a multipurpose field. The large multipurpose building here is used for many different events and activities from toddler playtimes to art shows to classes. The Railroad Trail ends at Bloedel Donovan and provides easy access to and from the park for people on foot or bike.
Boulevard Park
(South State St. and Bayview Dr.) A beautiful waterfront park along Bellingham Bay. This park is a great place to hang out on a sunny afternoon and watch the sunset in the evening. The park has a large grassy area and a small children's play area perfect for summer picnics and family gatherings. Several free summer music concerts are held here and it is a great place to watch fireworks on the 4th of July. Many people come to Boulevard Park on foot by the South Bay Trail that runs from the Village Green in Fairhaven through Boulevard Park and onto Downtown Bellingham. The 2.5 mile scenic trail is filled with walkers, joggers, dogs and families on nice weekend days. The park now has a Woods Coffee shop along the path which makes it a perfect destination to get your favorite drink.
Whatcom Falls Park
(1401 Electric Ave.) A beautiful, forested park located along Whatcom Creek features several miles of wooded trails that are used by runners, hikers, dog walkers and kids. A scenic waterfall (photo right) can be seen from the stone bridge near the park's lower parking lot. A fish hatchery is located next to the parking lot and a short walk upstream is Derby Pond, a juvenile fishing area stocked with hatchery trout. Whatcom Falls Park has two playgrounds, tennis and basketball courts, a multipurpose field and a shelter. Dog owners can walk their dogs off-leash on the Waterline Trail between the water treatment plant and the cemetery. Groups of Mt. Bikers will often park in the upper parking lot of the park and head up to nearby Galbraith Mt. which has miles of roads and trails.
Fairhaven Marine Park
(west end of Harris Ave.) This scenic park on Bellingham Bay features a saltwater beach and views of the San Juan Islands. Recent improvements to the beach have made access to the water safer and easier for kayakers as well as a better marine habitat. The park has a shelter, picnic area and public restrooms. During low tides, herons can often be seen fishing in the shallow waters. During Memorial Day weekend, this quiet park becomes jam-packed with spectators who come to watch the kayakers come ashore and cross the finish line of the annual Ski to Sea Relay Race.
Fairhaven Park
(107 Chuckanut Dr.) A nice city park with a playground, summer spray park, tennis court, basketball court and a multipurpose field. The park has a pavilion and a picnic shelter that can be rented out for special events. The park is located along the 6.5 mile long Interurban Trail that runs from Fairhaven to Larrabee State Park. This popular trail is enjoyed by walkers, joggers and bikes and is used for the annual Chuckanut Footrace each year in July.
Arroyo Park
(Old Samish Rd.) A beautiful forested park along Chuckanut Creek in south Bellingham. The park has moderate to difficult trails that are used by hikers, joggers, mountain bikers and horses. All trails in Arroyo park are designated by the city as off-leash dog areas and open to horses (handlers must pick up after their animals and have voice control over their dogs).
Cornwall Park
(3424 Meridian St.) A beautiful forested city park located along Squalicum Creek. This park has a nice playground and a summer spray park for kids. The creek has several cascading pools that can be fun for kids to play in during the summer. Bellingham's only public disc golf course is located in Cornwall Park. The 9-hole course is free to use and is a fun activity for all ages, just bring your own discs. The park also has tennis courts, a multipurpose field and the Jackson Fitness Trial.
Big Rock Garden Park
(Sylvan St. and Illinois Ln.) A beautiful garden park near the north end of Lake Whatcom. This peaceful park has wooded trails and a wonderful collection of permanent and temporary outdoor sculptures. Each year in May, Big Rock Garden has a party celebrating the opening of its new Sculpture Exhibit. The park also has several summer concerts on Sunday afternoons. A great place to get away and enjoy nature!
Sehome Arboretum
(25th St. Sehome Hill) This natural forest park located on Sehome Hill next to WWU's campus. It is maintained by both WWU and the City of Bellingham. The Arboretum has several miles of trails and a road that runs to the top of the hill. There is an observation tower at the top of the hill a short distance from the parking lot. The tower is on the north side of Sehome Hill and offers nice views of the bay, the city, north Whatcom County and the Canadian Cascades. Many college students in the nearby neighborhoods use the trails to walk to and from class. The steeper trails are often used by area high school and college athletes for a challenging workout. Dogs are allowed off-leash on secondary trails only.
Woodstock Farm
Bellingham's newest park opened to the public in 2006. The farm is a public heritage site built by Cyrus Gates over 100 years ago. The site was used by the native people for thousands of years prior to Mr. Gates living there. Currently, selected areas of the site are open to the public. Woodstock Farm is located on Chuckanut Bay and must be reached by foot or bicycle via the Interurban Trail or Chuckanut Drive. Parking is available at the North Chuckant Trailhead parking lot.
Samish Park
This park is located on Lake Samish and is operated by the Whatcom County Parks & Recreation Dept. The park has a day lodge, swimming area, playground, picnic tables, hiking trails, fishing dock and non-powered boat rentals.
Larrabee State Park
This park is located along Samish Bay 6 miles south of Bellingham. It can be reached from Chuckanut Drive and the Interurban Trail. The park has a campground, rocky beach, hiking trails and a public boat launch. Kids enjoy the beach and the tide pools at low tide. Colorful starfish are easy to see along with a variety of other sea creatures. A good place to enjoy the sunset and the scenery. The calm waters of the bay make it a nice place to kayak.
*Info and Pictures courtesy of bellingham.net, livebellingham.com and mcclatchy.com